SUMMER!
Tuesday, April 30, 2019 by Hannah Violette | Uncategorized
It's been a long year. Students have worked so hard, passed their Syllabus exams, and are still learning a ton of musicianship skills and pieces. Instead of an in-person recital, we will be video recording the kids and posting a virtual recital on YouTube. You can watch it in the privacy of your own home, wearing the comfiest of pajamas and eating ice cream straight from the carton! No dressing up or being sociable required...
...because face it: WE ARE ALL EXHAUSTED.
Summer can't get here fast enough.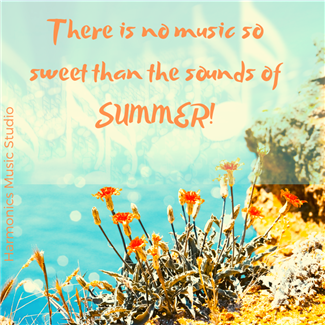 Normally at this time, I would be soliciting from you your travel schedules so I could set up a summer-long teaching calendar. This year, however, I'm keeping it simple.
I will be teaching through the end of June. This will give us plenty of time to prepare and record student performances and get the video edited, uploaded, and distributed. My summer grad school classes in music theory and other blah-blah will come to a welcome end. On July 2, I will be packing up and leaving for six weeks. Six blissful weeks living in my camper with only my husband, pets, and a delightful lack of network connection. I hope to sleep late every day, read lots of books, find Bigfoot, and write a book about my adventures.
The studio will reopen with the new school year; hopefully, everyone will be well rested and ready to start. There will be no major changes to the studio policies or the tuition structure; you will be receiving the annual enrollment fee of $50 on your June invoice.
With all that said, please come out and be entertained at the high school Cabaret concert on Friday, May 24 at 7 pm or Saturday, May 25 at 3 pm; tickets will be $10 at the door. The middle school final concert (this one's a freebie) will be Tuesday, May 28 at 7 pm. Graduation festivities will then ensue and another year will have flown by.
I hope you've got some fantastic summer plans! See you in September.