November News and Events
Friday, October 26, 2018 by Hannah Violette | Uncategorized
HAPPY FALL, Y'ALL!
As I type this, it's not even Halloween (and we will be having lessons that night...), yet I know if I don't get this out now, it won't get out. I will be striving to send a quick note like this at the end of every month just to keep all of you informed about what's happening in the studio and in our area as far as performing and learning opportunities.
November 14 Lessons Rescheduled
We are coming into the holiday season, which means my responsibilities as the high school choir director are reaching a fevered pitch. On Wednesday, November 14, the choir will be singing at the National Christmas Tree celebration and so those lessons will be held on Thursday, November 15 (same time). This is already reflected on the calendar and your November invoice. And speaking of invoices...if your student had a lesson on Thursday, October 26, that tuition is reflected on the November invoice. If you are at all confused about any charges, please check your family account on the website. If that doesn't help, shoot me an email.
Contemporary/Impressionist Festival
This year's fall piano festival will be held at First United Methodist Church in La Grande on Saturday, November 17, at 1:00 pm. Level Four student Cadence Penning will be performing Midnight Prayer, a very challenging contemporary piece. There is no charge to attend the festival. The next festival coming up is the Baroque Festival on February 23; please let me know if you wish for your student to participate.
Thanksgiving Week
As the studio calendar generally follows the school calendar, there will be no lessons on Wednesday, November 21.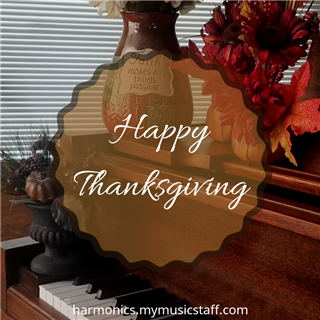 Christmas Recital
Students are already off and running in preparation for this year's Christmas recital, which will be Saturday, December 15, at 11:00 am. The library has already been reserved for that day. Please bring a small plate of something to share; I will provide Scot's holiday wassail (spiced cider) and plenty of cups, plates, and other necessary items.
OMTA Website
The Blue Mountain District of the Oregon Music Teachers Association has a fantastic little website, on which you can find festival and syllabus dates in advance: http://omta-bluemountain.wixsite.com/lagrande. I encourage you to check it out!
2018 is very nearly wrapped up and in the bag...here's to a chaos-free, peaceful holiday season!
Musically yours,
Hannah